I am starting my birthday celebration a day early - part of that is from being greedy! I love to celebrate my birthday but since my nephews birthday is the day after mine the celebrating comes to an end in our family so we can celebrate his birthday so I start to celebrate a little early.  So while my birthday is tomorrow I wanted to be sure everyone in every time zone had the opportunity to grab a party hat and join the party and grab some items from my store while they are on sale!
Just for coming to the party you will get a great party hat. It is only available for download until midnight PST June 16th when unfortunately my birthday celebrations come to an end.  Plus for everyone coming to the party will get a chance to win a few party gifts!
Here is how you can get a chance at some party gifts:
For your first chance you need to visit my store and let me know your favorite single template and who you would want to create it for (you might win that template!)
For additional chances you can do the following (each entry should be a SEPERATE comment below):
1) Like me on Facebook
2) Follow me on Twitter
3) Join my newsletter
4) Post on your Facebook or Twitter about my party going and send them over here to my blog!
So you have a total of 5 chances to win your choice of a single template in my store!  The winner will be randomly chosen based on the number of comments (entries) left.
Here are a few of my favorites (well that is not exactly true - I love them all) but you get the idea.
Don't forget since I am turning 32... you get to save 32% off my entire store (with the exception of collabs).
Before you get to really party with your party hat I wanted to make sure you know to stop by ScrapMatters on Thursday for a speed scrap!  The participation prize is donated by none other than ME!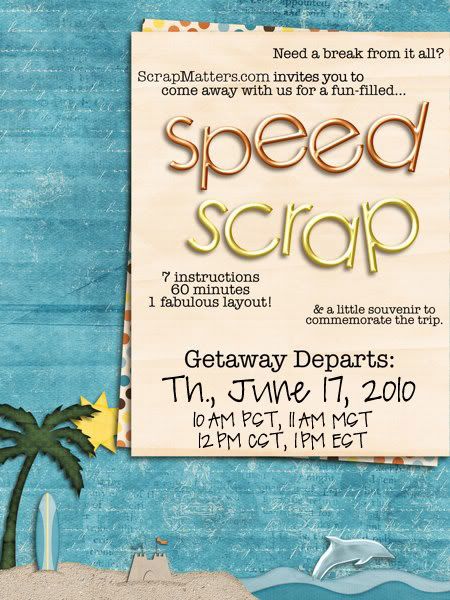 Here is the participation prize:
Now here is your very own party hat. I would love to see what your party hat looks like after you are done decorating it!  This template is again only available until June 16th at midnight PST, then it will go into my shop.
FREEBIE IS NO LONGER AVAILABLE - you can still grab your party hat here though!
Have a great time at the party!  Hope you will continue to visit.