Hope that everyone is having a great start to their weekend … I know I am.  We are spending the weekend finishing up the house so it is ready for our new puppy coming home to us on Tuesday, eeek!
Well I have a new product for you in both my Scrap Orchard guest store and my store at ScrapMatters.
You get all 4 sizes for ONE low price!
Plus there is a free with purchase at ScrapMatters… check out this beautiful ad, it was made with the kit that you can have free with a $20 purchase.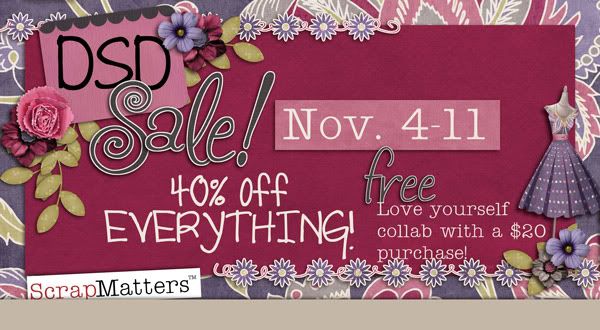 Here are the Speed Scraps and Games for the rest of the weekend at ScrapMatters:
Saturday, November 5th:
Morning:
1. Fran - scrambles, 7am PDT/8am MDT/9am CDT/10am EDT
2. Chel - scrap lift, 10am PDT/11am MDT/12pm CDT/1pm EDT
Afternoon/Evening
1. Kendall - bingo, 11am PDT/12pm MDT/1pm CDT/2pm EDT
2. Fran - I spy, 4pm PDT/5pm MDT/6pm CDT/7pm EDT
Sunday, November 6th
Morning:
1. Karen - photo game, 7am PDT/8am MDT/9am CDT/10am EDT
2. Ami - name that kit, 8am PDT/9am MDT/10am CDT/11am EDT
Afternoon/Evening:
1. Ophelia - comment game, 3pm PDT/4pm MDT/5pm CDT/6pm EDT
2. Kairyn - scamble, 6pm PDT/7pm MDT/8pm CDT/9pm EDT

DSD Weekend Speed Scraps
SS Kat Friday November 4 - 9pm ET, 8pm CT, 7pm MT, 6pm PT
SS Melanie (scrappymelly) November 5 - 1pm ET, 12noon CT, 11am MT, 10am PT
SS Chel Saturday November 5 - 10pm ET, 9pm CT, 8pm MT, 7pm PT
SS Ami (steami) Sunday November 6 - 1pm ET, 12noon CT, 11am MT, 10am PT
SS Melissa (yzerbear19) Sunday November 6 - 8pm ET, 7pm CT, 6pm MT, 5pm PT
Let's not forget about Scrap Orchard, they are having TONS of games and events as well.
SCHEDULE OF EVENTS
Saturday, November 5, 2011
All times listed in Eastern Time

ALL DAY
Event: Scrapopoly [Siggy Game]
Location: Scrap Orchard Forum
Host: Jaye
8am - 9am
Event: Checkers [Challenge]
Location: Game On! Challenges Forum
Host: Sandy
9am-10:00am
Event: Crazy 8's [MIS]
Location: Make It Snappy! Forum
Host: Jaye
10am-11:30am
Event: BINGO (DIY)
Location: Treehouse Chatroom
Host: Mel
11am-12pm
Event: Life [Challenge]
Location: Game On! Challenges Forum
Host: Jaye
12pm-1pm
Event: Clue [Scavenger Hunt]
Location: Game On! Challenges Forum
Host: Sandy
1pm-2pm
Event: Scrabble [MIS]
Location: Make It Snappy! Forum
Host: Jenny
2pm-3pm
Event: Guess Who? [CHAT]
Location: Treehouse Chatroom
Host: Sandy
3pm-4pm
Event: Boggle [Challenge]
Location: Game On! Challenges Forum
Host: Jenny
4pm-5pm
Event: Tic Tac Toe [Challenge]
Location: Game On! Challenges Forum
Host: Heather
5pm-6pm
Event: Trivial Pursuit [Chat]
Location: Treehouse Chatroom
Host: Jenny
6pm-7pm
Event: Connect Four [Challenge]
Location: Game On! Challenges Forum
Host: Teri
7pm-8pm
Event: Twister [MIS]
Location: Make It Snappy! Forum
Host: Heather
8pm-9pm
Event: Yahtzee [Challenge]
Location: Game On! Challenges Forum
Host: Teri
9pm-10pm
Event: Taboo [CHAT]
Location: Treehouse Chatroom
Host: Kami & Mel